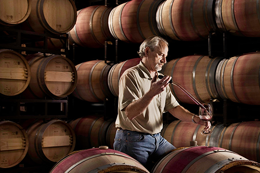 Special Event: Tasting with Darel
Col Solare Red Mountain Winery
July 24th, 2021 - July 25th, 2021
2:00 – 4:00pm

Join Col Solare's Head Winemaker, Darel Allwine, for a special afternoon at Col Solare Red Mountain.
Get a behind the scenes peek at the winemaking process from fruit selection to blending to bottling and everything in between.

Enjoy a selection of Col Solare wines and some light appetizers with Darel and learn what makes Red Mountain such an idyllic growing region that produces so many highly acclaimed wines.

Please call (509) 588-6806 to purchase tickets to this event.

Event Location
Col Solare Red Mountain
50207 Antinori Road, Benton City, WA 99320
Shipping & Service
To ensure extreme weather conditions or temperature variances do not impact the quality of your wine, orders will only be shipped Monday through Wednesday for ground shipping (when available) and Monday through Thursday for second-day and overnight shipping. Orders must be placed by 8 a.m. PST to be shipped on the same day. LEARN MORE.